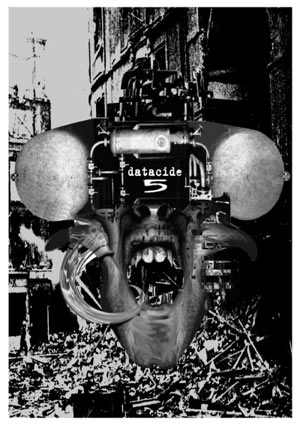 datacide five
Release Date: January 1999. 28 Pages.
Datacide: Introduction
Scud: "Expect To Be Exposed To Murder At Any Time"
Scud: Bomb Graffiti
Prevention of Terrorism?
Christoph Fringeli: Information War, Cyberwar, Netwar, Anti-War, Technowar
Howard Slater: Autotraumatisation – On the Movies of John Carpenter
Matthew Hyland: Absolute Materialism: Heaven's Gate, Artaud, 'regenerative slime'. Part 2 of Gnostic Front from datacide two
Luther Blissett: TRUE CONFESSIONS: Endnote to Let the Children Play
Matthew Fuller: Straight Out the Jungle: review of "ADILKNO: The Media Archive" (Autonomedia)
Obsessive Eye
Transgressions: A Journal of Urban Exploration
Lobster 36
Mark Curtis: The Great Depression (Pluto Press)
Rachael Kozak: Channel Zero
CF: Mediation – Noise, Politics & the Media
Siobhan McCracken: Sex is Vinyl.
Flint Michigan: SPITTIN' WICKED RANDOMNESS
Flint Michigan: WINTER OF DISCONTENT: The Pop Group: We Are All Prostitutes (Radar CD)
Dan: We can do n. . .
Record Reviews
plus: news, charts and the lives and times of Bloor Schleppy.

Note: This issue is no longer available as single copy, but the whole issue is featured in the collection Everything Else is Even More Ridiculous: A Decade of Noise & Politics – Datacide Magazine 1-10.
To buy the book click on the cover image:

Related Posts
datacide has compiled a list of the most extreme and dance-floor killing tracks and releases of 2010!  check it! top 13 (no order) v/a - Abri De Defense Passive N°14 - Cavage 14 Christoph de Babalon - A World of my Own - Restroom 12015 Cortex - Praxis 48 WL…

datacide four Release Date March July 1998. 24 Pages. Luther Blissett: Let the Children Play 1 Luther Blissett: Let the Children Play 2 Luther Blissett: Let the Children Play 3 Howard Slater: The Western Howard Slater: Minimal Apertures (Insert to The Western) Matthew Hyland: Plague in this Town Datacide: No-Tek…

From: tom9351@iperbole.bologna.it Date: Fri, 20 Mar 1998 17:15:28 +0100 (MET) X-Sender: tom9351@pop.iperbole.bologna.it (Unverified) Mime-Version: 1.0 To: nettime-l@Desk.nl Subject: the Blissett crackdown in Italy There's an anti-Blissett crackdown going on in Italy. The reason is LB's book 'Lasciate che i bimbi. "Pedofilia", un pretesto per la caccia alle streghe' [Let The…