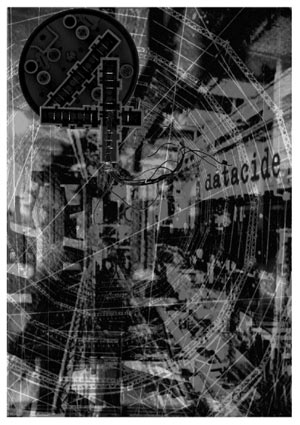 datacide four
Release Date March July 1998. 24 Pages.
Luther Blissett: Let the Children Play 1
Luther Blissett: Let the Children Play 2
Luther Blissett: Let the Children Play 3
Howard Slater: The Western
Howard Slater: Minimal Apertures (Insert to The Western)
Matthew Hyland: Plague in this Town
Datacide: No-Tek Interview
Reverend Butech: FILTHY THIRD PSALM (237/237)
Dan Hekate: Zusumine
Flint Michigan: WE CALLED IT TECHNO: New Order: Video 586 [Touch]
Peter Edwards: The Endless Short Story – a six year loop
Flint Michigan: MEANS FROM AN END – on recent Mille Plateaux releases
CF: Wag the Dog
CF: Virtual Government: CIA Mind Control Operations in America by Alex Constantine (Feral House)
Record Reviews
plus: print reviews, news, charts, record news, Curley obituary, short texts by Matt Fuller, Rachael Kozak, Claire Hekate, Jeff23, and Scud, and the lives and times of Bloor Schleppy.

Note: This issue is no longer available as single copy, but the whole issue is featured in the collection Everything Else is Even More Ridiculous: A Decade of Noise & Politics – Datacide Magazine 1-10.
To buy the book click on the cover image:

Related Posts
datacide two Release Date: June 1997. 24 Pages. Datacide: JSA Navigation Datacide: Legal Defense and Monitoring Group Interview Datacide: Virtual Worlds and Concrete Strategies - Interview with Konrad Becker Matthew Hyland: Gnostic Front - Cultural Studies and Other Suicide Cult Klaus Witz: Search & Destroy Jo Burzynska: What the Fuck?…

datacide five Release Date: January 1999. 28 Pages. Datacide: Introduction Scud: "Expect To Be Exposed To Murder At Any Time" Scud: Bomb Graffiti Prevention of Terrorism? Christoph Fringeli: Information War, Cyberwar, Netwar, Anti-War, Technowar Howard Slater: Autotraumatisation - On the Movies of John Carpenter Matthew Hyland: Absolute Materialism: Heaven's Gate,…

datacide one Release Date: March 1997. 20 Pages. Mark Spiral: Teknival - Summer Thunder datacide: Test Tube Kid Interview Matthew Fuller: Lab Rats a go-go London Psychogeographical Association: "I am an alien (wo)man...I beheld the life and the life beheld me." The Great Book of the Mandeans KW: Garbage People…