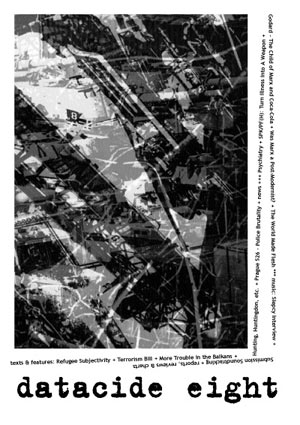 datacide eight
Release Date: October 2002. 44 Pages.
Datacide: Introduction
sko!: Los Angeles Scene Report
Jack Alley: SPOR
May Day London Report (2001)
Boris Domalain: Techno+
Rachael Kozak: HWF is Dead – Long live the HWF
Boris Domalain: LSD, LSQ & the Free
Terrorism Bill
CF: More Trouble in the Balkans
Anomie: Hunting, Huntington etc
CF: Terror Against Terror
Matthew Hyland: CONTINUOUS CRISIS: Historical action and passion in Antonio Negri's Insurgencies
Stewart Home: WAS MARX A POSTMODERNIST?
Matthew Hyland: REFUGEE SUBJECTIVITY: 'Bare life' and the Geographical Division of Labour
Christoph Fringeli: Psychiatry – Social Hygiene and Mind Control
SPK/PF(H): Turn Illness into a Weapon
Howard Slater: Godard – THE CHILD OF MARX & COCA COLA: On Godard's Masculin/Feminin
Matthew Fuller: The World Made Flesh
Robert Old: Submission Soundtracking
stevvi: An Interview with Slepcy
Howard Slater: All was Music. On Walter Marchetti.
Record Reviews
plus: news, charts, and the lives and times of Bloor Schleppy.

Note: This issue is no longer available as single copy, but the whole issue is featured in the collection Everything Else is Even More Ridiculous: A Decade of Noise & Politics – Datacide Magazine 1-10.
To buy the book click on the cover image:

Related Posts
datacide eighteen Features: Revolution and Counterrevolution in Germany 1919; Marxism Contra Jusice; Ghosts & Handbags; Masterless Mouths; Book Reviews: A Fascist Tulpa in the White House?; Lions led by Jackals; France - What's new for the Left? Poetry & Fiction by Howard Slater, Dan Hekate. Plus: News roundup, record reviews…

datacide three Release date: October 1997. 24 Pages. Reverend Butech: Butech Wants You! Six Hurts G.: Mr. Chairman, dear collegues, ladies and gentlemen Boris Karloff: Plague of the Zombies The Assessor: The Assessor Matthew Fuller: Perpetual Commotion (on Critical Art Ensemble) Howard Slater: PARALLAXED Datacide: Interview with Mark Newlands /…

datacide seven Release Date: August 2000. 36 Pages. Datacide: Introduction Matthew Hyland: PERSONALIZED RACISM - on the poverty of diverse life WTO Matthew Fuller: J18 vs G8 Human Throwdown Anomie: N30 (London) RECLAIM THE STREETS - NYC Anna Bolena: ROMA RIOT CF: Kosovo Matthew Hyland: NEW AGE POLICING Howard Slater:…