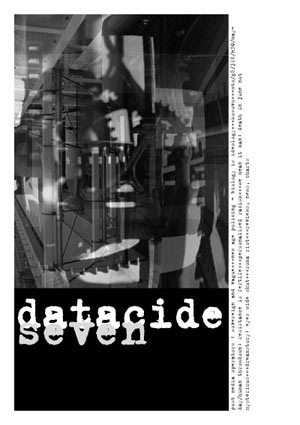 datacide seven
Release Date: August 2000. 36 Pages.
Datacide: Introduction
Matthew Hyland: PERSONALIZED RACISM – on the poverty of diverse life
WTO
Matthew Fuller: J18 vs G8 Human Throwdown
Anomie: N30 (London)
RECLAIM THE STREETS – NYC
Anna Bolena: ROMA RIOT
CF: Kosovo
Matthew Hyland: NEW AGE POLICING
Howard Slater: POST-MEDIA OPERATORS: "SOVEREIGN & VAGUE"
Stewart Home: WE MEAN IT MAN: PUNK ROCK AND ANTI-RACISM- or, DEATH IN JUNE NOT MYSTERIOUS
Praxis + Break/Flow: Praxis + Break/Flow: The 'Communist' Seven Inch Product Blueprint
Howard Slater: Dreamstory: Stanley Kubrick: "Eyes Wide Shut"
Stewart Home: "Guy Debord" by Anselm Jappe (University of California Press)
Christoph Fringeli: James St.James: The Story of Michael Alig: King of the Club Kids (Sceptre 1999)
Record Reviews
plus: news, charts, and the lives and times of Bloor Schleppy.

Note: This issue is no longer available as single copy, but the whole issue is featured in the collection Everything Else is Even More Ridiculous: A Decade of Noise & Politics – Datacide Magazine 1-10.
To buy the book click on the cover image:

Related Posts
datacide three Release date: October 1997. 24 Pages. Reverend Butech: Butech Wants You! Six Hurts G.: Mr. Chairman, dear collegues, ladies and gentlemen Boris Karloff: Plague of the Zombies The Assessor: The Assessor Matthew Fuller: Perpetual Commotion (on Critical Art Ensemble) Howard Slater: PARALLAXED Datacide: Interview with Mark Newlands /…

datacide two Release Date: June 1997. 24 Pages. Datacide: JSA Navigation Datacide: Legal Defense and Monitoring Group Interview Datacide: Virtual Worlds and Concrete Strategies - Interview with Konrad Becker Matthew Hyland: Gnostic Front - Cultural Studies and Other Suicide Cult Klaus Witz: Search & Destroy Jo Burzynska: What the Fuck?…

datacide one Release Date: March 1997. 20 Pages. Mark Spiral: Teknival - Summer Thunder datacide: Test Tube Kid Interview Matthew Fuller: Lab Rats a go-go London Psychogeographical Association: "I am an alien (wo)man...I beheld the life and the life beheld me." The Great Book of the Mandeans KW: Garbage People…