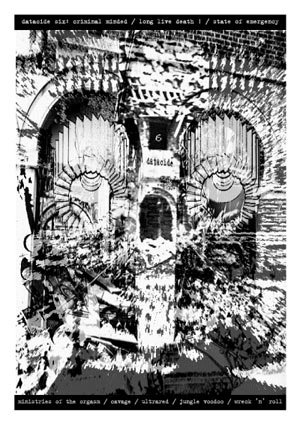 datacide six
Release Date: May 1999. 32 Pages.
Datacide: Introduction
NOTE ON KOSOVO
Matthew Hyland: STATE (OF) EMERGENCY: Nail Bombs and Bio-Politics
Matthew Fuller: CRIMINAL MINDED
Howard Slater: "LONG LIVE DEATH": On Pasolini's "Salo"
Matthew Hyland: MINISTRIES OF THE ORGASM: 'Sexpol' in Reich and Makavejev
Suckpop: IN THE CATACOMBS BURNS A LITTLE LIGHT!: Cavage Interview
Rachael Kozak: Possessed in the City of Quartz: Jungle Voodoo Interview
Autotoxicity: b.s.e (bad sector electro)
Howard Slater: "INVOLUTIONARY MUSIC": Ultra-red: An Electroacoustic Pastoral (Mille Plateaux)
J. Banks: Al Sayhah
CF: Chrome record reviews
Wreck'n'Roll
Rev. Butech: 144 Ahead
Matthew Hyland: Flesh Machine: Critical Art Ensemble (Autonomedia)
Howard Slater: Loose Watch: a Lost and Found Times Critical Anthology (Invisible Books)
Howard Slater: Break/Flow
Stewart Home: Wreckers of Civilisation: The Story of COUM Transmissions and Throbbing Gristle by Simon Ford
Lifestyle Trends of Late Capitalism
Record Reviews
plus: news, charts, and the lives and times of Bloor Schleppy.

Note: This issue is no longer available as single copy, but the whole issue is featured in the collection Everything Else is Even More Ridiculous: A Decade of Noise & Politics – Datacide Magazine 1-10.
To buy the book click on the cover image:

Related Posts
datacide eighteen Features: Revolution and Counterrevolution in Germany 1919; Marxism Contra Jusice; Ghosts & Handbags; Masterless Mouths; Book Reviews: A Fascist Tulpa in the White House?; Lions led by Jackals; France - What's new for the Left? Poetry & Fiction by Howard Slater, Dan Hekate. Plus: News roundup, record reviews…

datacide three Release date: October 1997. 24 Pages. Reverend Butech: Butech Wants You! Six Hurts G.: Mr. Chairman, dear collegues, ladies and gentlemen Boris Karloff: Plague of the Zombies The Assessor: The Assessor Matthew Fuller: Perpetual Commotion (on Critical Art Ensemble) Howard Slater: PARALLAXED Datacide: Interview with Mark Newlands /…

datacide seven Release Date: August 2000. 36 Pages. Datacide: Introduction Matthew Hyland: PERSONALIZED RACISM - on the poverty of diverse life WTO Matthew Fuller: J18 vs G8 Human Throwdown Anomie: N30 (London) RECLAIM THE STREETS - NYC Anna Bolena: ROMA RIOT CF: Kosovo Matthew Hyland: NEW AGE POLICING Howard Slater:…