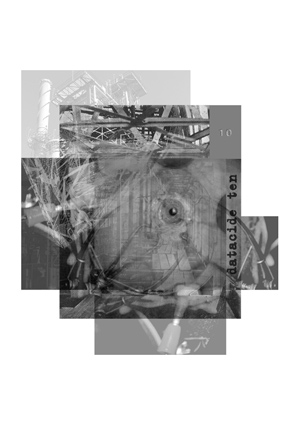 Datacide Ten
Release Date: 31 October 2008. 56 Pages.
Datacide: Introduction
Terry Ordo: Eng-Land
Secessionist Outernational: Self-Exile and Poetry
Secessionist Outernational: Secessionist Outernational
Howard Slater: Convergent Suggestion – Notes on Organisation and Surrealism
Nemeton: On Mikhailov's "Unfinished Dissertation"
JR: Denial Networks – On Crisis and Continuity in the 9/11 Truth Movement
JR: Debunking Resources: Appendix to Denial Networks
Neil Transpontine: A Loop Da Loop Era – Towards an (anti-)History of Rave
CF: Radical Intersections
Controlled Weirdness: You're Too Young to Remember the Eighties – Dancing in a Different Time
The Reverend: More Than Just a Night Out – Rave as Confrontation
Dan Hekate: All Things Fall and Will Be Built Again
Rafael Castellanos: Visible and Invisible Fragments of Experiences – About Bogotrax Festival
Hans-Christian Psaar: Commodities for the Jilted Generation
Alexis Wolton: Teknival and the Emancipatory Potential of Technology
Stewart Home: Peter Whitehead and the Sixties
JR: On "The Description of Bankruptcy"
CF: François Genoud: The Life of a Swiss Banker and Fascist Anti-Imperialist
Nemeton: "Everybody Talks About the Weather… We Don't: The Writings of Ulrike Meinhof"
DJ Balli: Audio-Philosophical Dwellings
DJ Balli: "Situationism on Wheels: Skatebored is not Skateboard" – A Corollary to "In Skatebored We Noize!" (+Bel. 04)
CF: The End of Vinyl? – Again?
Nemeton: "Pencil Break: A Graphicore Compilation" (full review)
CF: "Battlenoise!" and the Ideology of Martial Industrial
Record Reviews and (1) (2) (3) (4)
plus: charts and the lives and times of Bloor Schleppy.

Note: This issue is no longer available as single copy, but the whole issue is featured in the collection Everything Else is Even More Ridiculous: A Decade of Noise & Politics – Datacide Magazine 1-10.
To buy the book click on the cover image:

Related Posts
OUT NOW: with 56 pages the biggest datacide so far, it's full of features and reviews. Secessionist Outernational: Self-Exile and Poetry, Howard Slater: Convergent Suggestion - on Surrealism and Organisation, JR: Denial Networks - On Crisis and Continuity in the 9/11 Truth Movement, Neil Transpontine: A Loop Da Loop Era…

Thanks to Frank for the pictures!

datacide nine Release Date: May 2006. 44 Pages. Datacide: Introduction Terry Ordo and Accomplices: TEK IT UP Retrigger: Brazilian Scene breakcore Israel Howard Slater: Lotta Continua: Roots Music and the Politics of Production YOU MUST HELP YOURSELF: NEO-LIBERAL GEOGRAPHIES AND WORKER INSURGENCY IN OSAKA Matthew Hyland: SAY FEAR IS A…