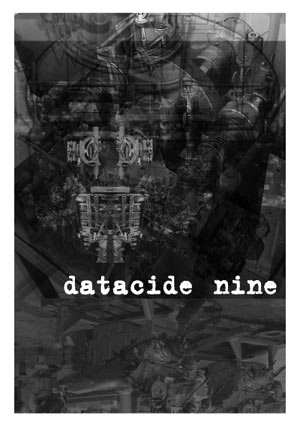 datacide nine
Release Date: May 2006. 44 Pages.
Datacide: Introduction
Terry Ordo and Accomplices: TEK IT UP
Retrigger: Brazilian Scene
breakcore Israel
Howard Slater: Lotta Continua: Roots Music and the Politics of Production
YOU MUST HELP YOURSELF: NEO-LIBERAL GEOGRAPHIES AND WORKER INSURGENCY IN OSAKA
Matthew Hyland: SAY FEAR IS A MAN'S BEST FRIEND
CF: ANTI-IMPERIALISM: BANKRUPTCY OF THE LEFT?
Stewart Home: The Eclipse and Reemergence of the Bildungsroman
CF: Review of "Your Drug May Be Your Problem – How and Why to Stop Taking Psychiatric Medications" by Peter R. Breggin and David Cohen
The Brain of Ulrike Meinhof
"Geschicten vom Trüffelschwein: Politik und Organisation des Kommunistischen Bundes, 1971-1991"
Christoph Fringeli: Interview with JOHN BALANCE from COIL from 1986
Flint Michigan: Cabaret Voltaire: The Attic Tapes 1974-1978 (Mute – Grey Area)
[Calvi23]: OURGANISATION vs SECESSIONIST OUTERNATIONAL
CF: Anti-Semitism from Beyond the Grave: Muslimgauze's Jihad
Matthew Fuller: Interview with a Photocopier
The Wirebug: The End.
Record Reviews
plus: news, charts and the lives and times of bloor schleppy.
Datacide 9 was reprinted in 2014. The editorial content of the second printing was identical, but layout was slightly changed.

Note: This issue is no longer available as single copy, but the whole issue is featured in the collection Everything Else is Even More Ridiculous: A Decade of Noise & Politics – Datacide Magazine 1-10.
To buy the book click on the cover image:

Related Posts
Right on time for the Radical Bookfair we re-publish Datacide Nine from 2006! The new edition contains all original texts, but has been thoroughly proof read and newly laid out. We're happy to have this long deleted issue back in print; it features some of the most read articles on…

Last years top tunes being played at datacide hq Somatic Responses - Concrete Glider mix by Diskore eMego 122V - Cindytalk - Hold Everything Dear DM12004 dubs - Various - Accretion EP Praxis 45 - Various - Anonymous Vol. 2 GuerillaLP01 - Donny+Current Value - Revolt and Riot Sub/Version Digital…

datacide has compiled a list of the most extreme and dance-floor killing tracks and releases of 2010!  check it! top 13 (no order) v/a - Abri De Defense Passive N°14 - Cavage 14 Christoph de Babalon - A World of my Own - Restroom 12015 Cortex - Praxis 48 WL…