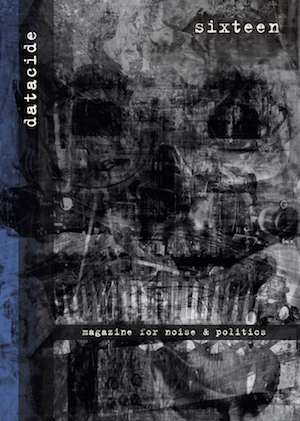 datacide sixteen
Release Date: 17 March 2017. 72 Pages.
News & Updates
The Reverend: Education in England – An Update
Marc Hekate: Keith Robinson Desert Storm Obituary
Matthew Hyland: Notes from Non-Existence – Brexit vs. the Proletariat
Features
Alexia Elliott: Poisoned Fruit in the Walled Garden – The Alt Right: A Growing Problem, But Not a New One
MH: Armed Competitiveness – The Working Class Gets Called Up to Fight Itself: Notes on a Recruitment Crisis
Howard Slater: 'Comrade Doctor' – On David Cooper and 'Anti-Psychiatry'
David Cooper: On Mystification (1978)
Strelnikov: Siege Mentality – Mason, Manson, Moynihan: On the Fringes of American Nazism
Book Reviews
Neil Transpontine: Angry White People – Coming Face-to-Face with the British Far Right by Hsiao-Hung Pai
Howard Slater: Demented Idioms – Schizo Culture, The Event (1975) and The Book (1978)
Matthew Hyland: Eat Like an Idealist! The Assassin – An Association of Musical Marxists Reader
Christoph Fringeli: Undeclared Wars With Israel: Jeffrey Herf on East Germany and the West German Far Left 1967-1989 and their role in the Middle East
Christoph Fringeli: Far-Left Press Coverage of the 2016 Anti-Semitism Row in the Labour Party and other Leftist Groups
Comix
Simon Lejeune: A Breakcore Saga
Sansculotte: Overdosed
Texts
DJ Balli: An Addition to the Guinness World Records
Mme Tlank/Clinical Wasteman: But What of the Ghost?
Music
Records Reviews by Prole Sector, Zombieflesheater, Low Entropy, Controlled Weirdness, Saxenhammer
DJ Charts
Visuals
Darkam, dybbuk, Guinea Pigs, Matthieu Bourel, Nevre, Oppositaer

Related Posts
[Please read as an insert to Howard Slater's "'Comrade Doctor' - On David Cooper and 'Anti-Psychiatry'"] This term, mystification, itself mystified, entered the field of psychotechnology to specifically account for indirect communicative manoevres in families and other micro-groups. Against the recuperating psychologism of such a reduction, the product of a…

Presentazione del numero undici della rivista internazionale Datacide Partecipano: -Cristoph Fringeli- Praxis/ Datacide -Anna Bolena- Idroscalo digitale -Fire at work- Stripe 999 -Rexistenz Crew -Marco Philopat- Happy B-day!!! Free entry

Saoulaterre (Cavage, Paris) Electric Kettle (Peace Off) Rokkon (Clash of the Titans) Line Destruction LT (Cagliostro) Christoph Fringeli (Praxis/Datacide) Images by Ian Liddle Video by Peter Rampazzo @ Knochenbox Boxhagener Str. 99 Berlin-Friedrichshain 23:00h // 4 € breakcore - noise - experimental - broken beats