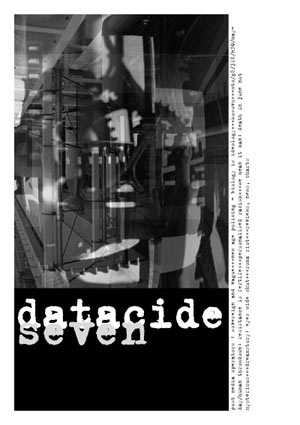 datacide seven
Release Date: August 2000. 36 Pages.
Datacide: Introduction
Matthew Hyland: PERSONALIZED RACISM – on the poverty of diverse life
WTO
Matthew Fuller: J18 vs G8 Human Throwdown
Anomie: N30 (London)
RECLAIM THE STREETS – NYC
Anna Bolena: ROMA RIOT
CF: Kosovo
Matthew Hyland: NEW AGE POLICING
Howard Slater: POST-MEDIA OPERATORS: "SOVEREIGN & VAGUE"
Stewart Home: WE MEAN IT MAN: PUNK ROCK AND ANTI-RACISM- or, DEATH IN JUNE NOT MYSTERIOUS
Praxis + Break/Flow: Praxis + Break/Flow: The 'Communist' Seven Inch Product Blueprint
Howard Slater: Dreamstory: Stanley Kubrick: "Eyes Wide Shut"
Stewart Home: "Guy Debord" by Anselm Jappe (University of California Press)
Christoph Fringeli: James St.James: The Story of Michael Alig: King of the Club Kids (Sceptre 1999)
Record Reviews
plus: news, charts, and the lives and times of Bloor Schleppy.