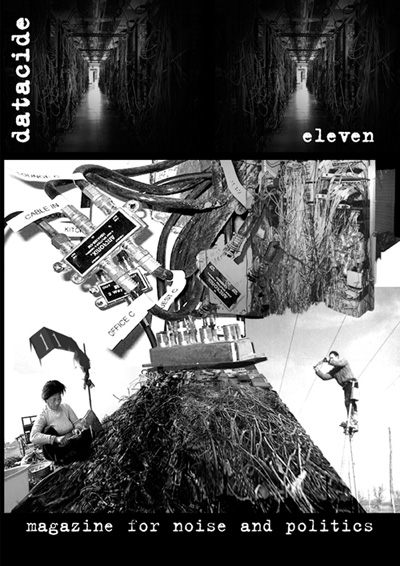 datacide eleven
release date: 3 February 2011. 64 pages.
Datacide events
Nemeton: Political news
Christoph Fringeli: Hedonism and Revolution: The Barricade and the Dancefloor
Stewart Home: Dope smuggling, LSD manufacture, organized crime & the law in 1960s London
John Eden: Shaking the Foundations: Reggae soundsystem meets 'Big Ben British values' downtown
Alexis Wolton: Tortugan tower blocks? Pirate signals from the margins
Neil Transpontine: Dance before the police come
Christoph Fringeli: From Subculture to Hegemony: Transversal Strategies of the New Right in Neofolk and Industrial
Christoph Fringeli: Appendix to "From Subculture to Hegemony": Metapolitical Strategies of the Nouvelle Droite
Christoph Fringeli: Appendix to "From Subculture to Hegemony": Ernst Jünger's "Waldgang"
Nemeton: From Conspiracy Theories to Attempted Assassinations: The American Radical Right and the Rise of the Tea Party Movement
R. C.: How to start with the subject. Notes on Burroughs and the 'combination of all forms of struggle'
Riccardo Balli: Sonic Fictions
Dan Hekate: Digital Disease
Howard Slater: Infra-Noir. 23 Untitled Poems
Matthew Fuller: Office Work
Matthew Fuller and Steve Goodman: Beat Blasted Planet. An interview with Steve Goodman on 'Sonic Warfare'
Terra Audio: Free Parties
Gorki Plubakter: This is the end… the official ending
Record Reviews
Plus: Charts and The Lives and TImes of Bloor Schleppy.

Related Posts
Not entirely without hesitation we publish our "traditional" list of the most read articles of the previous year. The hesitation comes from the fact that it looks like it's mostly the same articles that are read year in and year out. It has been suggested before that perhaps we should…

datacide eighteen Features: Revolution and Counterrevolution in Germany 1919; Marxism Contra Jusice; Ghosts & Handbags; Masterless Mouths; Book Reviews: A Fascist Tulpa in the White House?; Lions led by Jackals; France - What's new for the Left? Poetry & Fiction by Howard Slater, Dan Hekate. Plus: News roundup, record reviews…

... And more charts: these were the 10 most read articles on this web site during 2011: 1. From Subculture to Hegemony: Transversal Strategies of the New Right in Neofolk and Martial Industrial by Christoph Fringeli 2. Shaking The Foundations: Reggae soundsystem meets 'Big Ben British values' downtown by John…